VREF Verified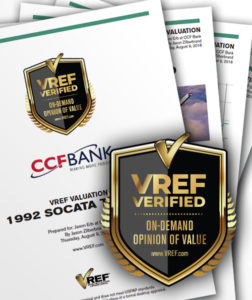 VREF Verified is an on-demand opinion of value and was created to assist our subscribers with complex aircraft valuations, for example: refurbished trainers, remanufactured aircraft, heavily modified aircraft, conversions, and aircraft with a small fleet size or for aircraft that might be out of the knowledge base of the professional. VREF Verified provides a comprehensive evaluation based on the aircrafts actual component status and installed equipment and is returned to the subscriber "Stamped" and verified the same business day.
This tool is helpful when considering a purchase, pre-lease commitment, internal evaluation, and for our subscribers who require a verified valuation that has been reviewed and/or generated by VREF.
NOTE: VREF Verified is not an appraisal and does not meet USPAP standards. It is a verified value and should not be used in place of a formal appraisal.
To complete a VREF Verified report, please reply to the confirmation email you'll receive after placing your order and and supply the following information about the asset:
Current maintenance status report (CAMP, CESCOM, etc.)
Current installed equipment list (PDF)
Current floor plan and post delivery installed equipment list (PDF, JPEG)
Recent closed work orders (PDF)
Download sample report