If It Flies…VREF Can Value It!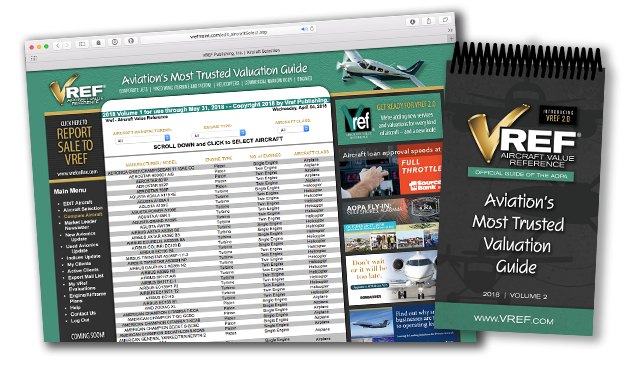 Since 1994, VREF has been Aviation's most trusted source of aircraft values. VREF is the official value guide for AOPA, and every major lender in the industry.
VREF is for aviation professionals that rely on independent and unbiased values whether they are an accredited appraiser, a pilot, a broker, bank, or flight department manager.
VREF Online offers subscribers access to a complete database of aircraft, including all piston fixed wing, all turbine and turbo-prop fixed wing, turbine and piston helicopters, commercial narrow body fixed wing, and coming soon a stand alone engine guide and UAV Guide. Everyone involved with aircraft transactions should subscribe to VREF Online.
VREF Appraisals provides comprehensive valuations to determine an aircraft's Current Market Value and/or Forecasted Residual Value, giving our clients accurate figures and projections. Over the years, VREF and its staff have appraised several thousand aircraft, individual and fleet, with values in excess of 300 Billion Dollars. In addition to monitoring and appraisals of Commercial Jets, Regional/Commuter and Executive/Business Aircraft, we also specialize in Engines, Spares, Inventories, Support Equipment, Fixed Base Operations and Antique or Museum aircraft and artifacts.
VREF Verified is an on-demand opinion of value and was created to assist our subscribers with complex aircraft valuations, for example: refurbished trainers, remanufactured aircraft, heavily modified aircraft, conversions, and aircraft with a small fleet size or for aircraft that might be out of the knowledge base of the professional. VREF Verified provides a comprehensive evaluation based on the aircrafts actual component status and installed equipment and is returned to the subscriber "Stamped" and verified the same business day.
VREF Expert Witness and Legal Services offers Litigation and Expert Witness support based on 3 decades of expertise and over 50 cases in Federal Court. VREF provides superior investigative skills, in-depth knowledge and expertise, myopic focus, and attention to detail. VREF legal experts have never lost a case, our industry leading training and experience will provide you the utmost confidence in VREF's ability to handle all types of legal matters. Services include deposition and deposition support, consulting witness, and testifying in court. Simply stated, VREF is the most credible source of aircraft valuations. Our appraisers have testified in United States Federal Court, are trusted by numerous Aircraft Manufactures, Banks, and the leading law firms in the United States.
An Essential Tool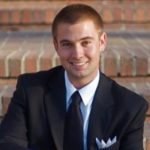 VREF is an essential part of our daily work in the aircraft sales and consulting industry. Their ability to provide up-to-date and practical real world information within our target aircraft segments allows us to help guide our clients on finding the best value for their aircraft listing or acquisition project.

Just a Few of The Clients We Serve